Spider Farmer® Cool Mist Humidifier for Plants
$89.99
If you notice a low humidity level, it is crucial to take prompt action to improve it. An inadequate amount of moisture in the air can result in a slowdown in growth and reduced efficiency of photosynthesis

Fast Shipping
3-8 business days for the product to reach you.
After-Sale Service
Up to 5 years warranty. Best customer service.
7 in stock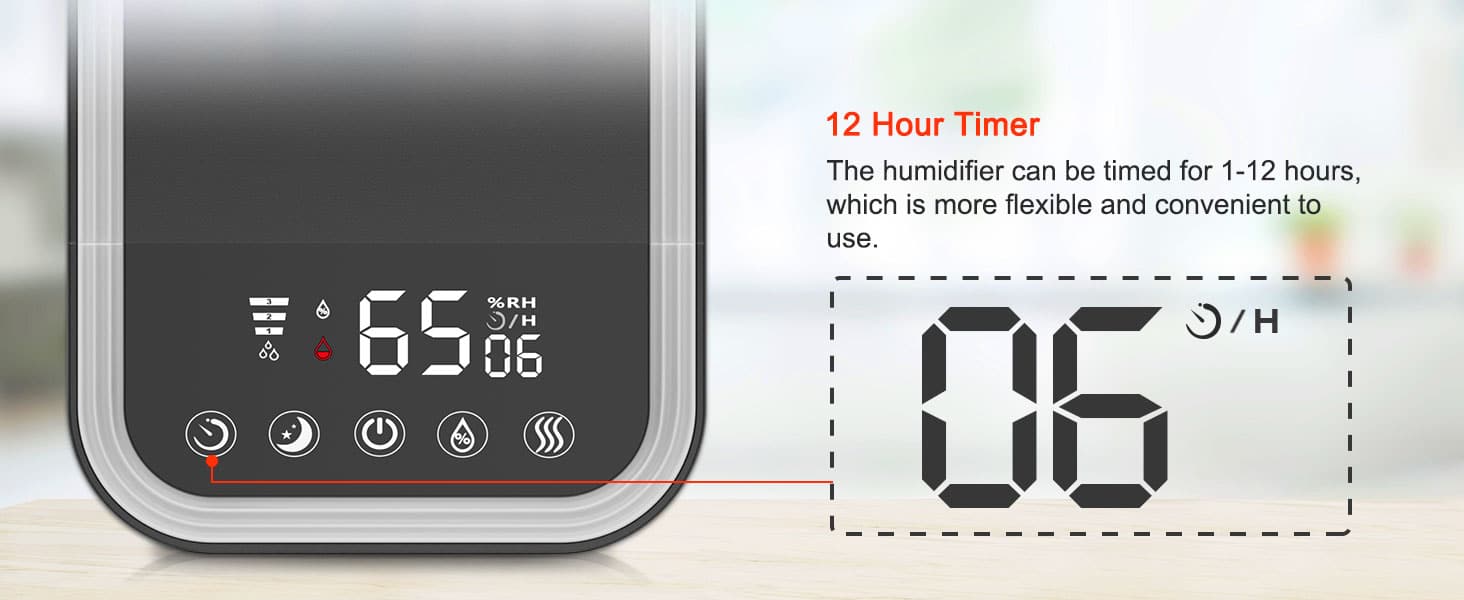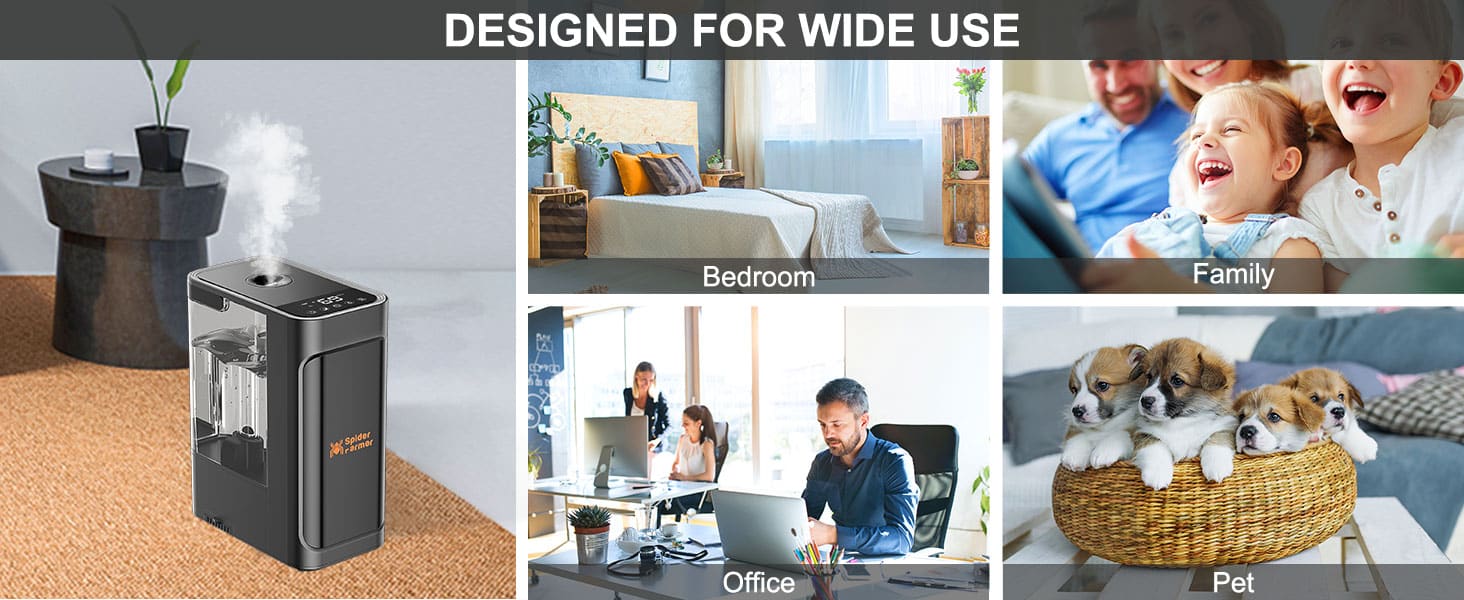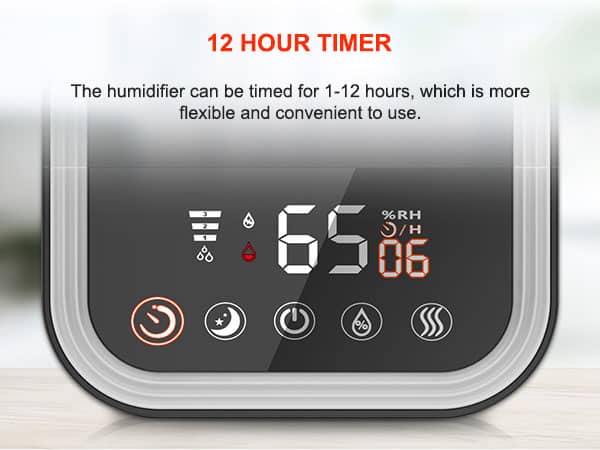 Q & A
Then inline fan with smart controller has 3 options to plug stuff in. 1 being the fan. 2 being the senor. What's the other one for?
Kevin

asked on March 26, 2023
Hello! This is the Q&A section for humidifiers. I just wanted to clarify that the question being discussed here is specifically related to the Inline fan with a smart controller, not a humidifier, so as not to confuse other customers.
If you only have one inline fan, you can ignore the additional interface. However, if you have two inline fans and want to control them together under one program, this interface can be very useful. By using this port, you can easily synchronize and regulate the operation of both fans, making your ventilation system more efficient and effective. This will help to streamline the process and save you time and energy
celia

answered on March 27, 2023
store manager
Does the humidifier need a Wi-Fi connection in order to use the auto feature?
Margaret

asked on March 21, 2023
No, a Wi-Fi connection is unnecessary for the humidifier to use its auto feature.
celia

answered on March 21, 2023
store manager
does it have a sensor to turn on automatically if it detects the humidity in the environment is low?
Emmett Thorne

asked on March 18, 2023
Hello! Our humidifier comes equipped with a highly efficient humidity sensor that is capable of detecting the moisture level in the surrounding environment. To operate the humidifier, all you need to do is set your desired humidity level, and the device will work tirelessly until it reaches the specified moisture level. Once this level is reached, the humidifier will stop misting but will remain on. If the humidity level drops below the set threshold, the humidifier will automatically start misting to maintain the comfortable level of humidity.
If you wish to turn off the humidifier, you can do so conveniently using either the remote control or the button located on the device's body. Our humidifier has been designed with the optimal comfort of our valued customers in mind, and it ensures ease of use and convenience.
celia

answered on March 20, 2023
store manager
If used in a grow tent will it come on automatically with an external timer?
Ralph Groff

asked on March 3, 2023
Hi, it will not turn on automatically by an external timer, because when the humidifier is plugged in, you need to press the switch on the humidifier to turn on the humidifier, or use the remote control, press the switch on the remote control to turn on the humidifier, we recommend that you use the 1-12 hour timer function that comes with the humidifier
celia

answered on March 7, 2023
store manager
Sorry, no questions were found
1. Customer Satisfaction and Quality Products
Spider Farmer is a reputable brand in indoor and hydroponic gardening. Its products are widely used by farmers, hobbyists, and professionals. The company's mission is to help people grow healthy and vibrant plants in any environment. Spider Farmer continuously works to enhance and expand its product range to meet the evolving needs of its customers.

2. Best Prices Guarantee
Spider Farmer is committed to providing the best prices online for all our products. When you shop with us, rest assured that you are receiving the best online prices.

3.Enjoy Free and Discreet Shipping Across the USA
Our company is pleased to provide complimentary shipping to nearly every state in the USA, utilizing trusted couriers such as FedEx, UPS, USPS, and other reliable shipping providers. We understand the importance of privacy and will ensure that your package arrives discreetly.

4. Commitment to Customer Care
At Spider Farmer, we take responsibility for ensuring that our customers are always satisfied with their purchase. If anything is wrong, we guarantee to make it right, and you can reach us via call, email or message, and we will respond in about 1 business day or less.

5.Hassle-Free Returns and Refunds
In case your purchase does not meet your standards, we offer a hassle-free 30-day refund and return policy. Refer to our full return policy for details.

6.Dependable Global Shipping
We offer international shipping for all our products via FedEx, UPS, USPS, DHL, and other reputable couriers. To obtain a shipping quote, please proceed to the checkout process or get in touch with our customer service team for further assistance.

7. Buy Now, Pay Later with PayPal
Time and flexibility are on your side. Get what you want and break the payments up over weeks or even months.

8. Secure Payment Methods
We accept major credit and debit cards, PayPal, and bank transfers, and all card payments are processed through our encrypted SSL security processing system, ensuring that your identity is always protected.

Spider Farmer is dedicated to providing high-quality products and exceptional customer service to ensure a happy growing experience for all our customers.