TOP QUALITY LED GROW LIGHT: The SF2000 in the Grow Tent Kit uses highly efficient Samsung LM301B diodes, enabling energy efficiency of 2.7 umol / J. The full spectrum light is ideal for all plant growth stages and is equipped with a dimmer switch that adjusts the light intensity. Consuming only 200w, this grow light provides powerful light output and uniform canopy penetration for maximum yield.
STURDY AND DURABLE GROW TENT: The 2×4 tent uses a 100% reflective mylar interior for improved grow light reflection. Heavy-duty 1680D oxford fabric exterior and reliable SBS zippers ensure a durable and light leak-free tent. Sturdy steel frame and stable metal corner adapters with load capacity up to 140 lbs. Overall design is simple to install, easy to ventilate and keep clean.
EFFECTIVE VENTILATION AND AIR PURIFICATION: The ventilation mix design combined with the EC motor allows the inline fan to provide a strong airflow of 205 CFM and consume only 35 watts of power. Fan speed controller allows you to freely set the fan speed. High-performance carbon filter consists of heavy-duty metal filter housing and RC412 activated carbon, making it long-lasting and effective in controlling and purifying odors.
AFFORDABLE COMPLETE GROW TENT KITS: Our kits save a lot of money and time over buying each equipment separately. Comes with easy-to-follow installation instructions, easy to assemble and very simple to operate. All equipment is compatible and properly matched, comes in a box and is packaged concealed.
WORTH EVERY PENNY: Getting a quality grow tent kit means you'll get more value for your money over a longer period of time. All parts are backed by a local US repair center. As a manufacturer specializing in Led grow lights for over 10 years, Spider Farmer has been creating more efficient, better fitting, and better quality home grow equipment and is a trusted partner for every grower.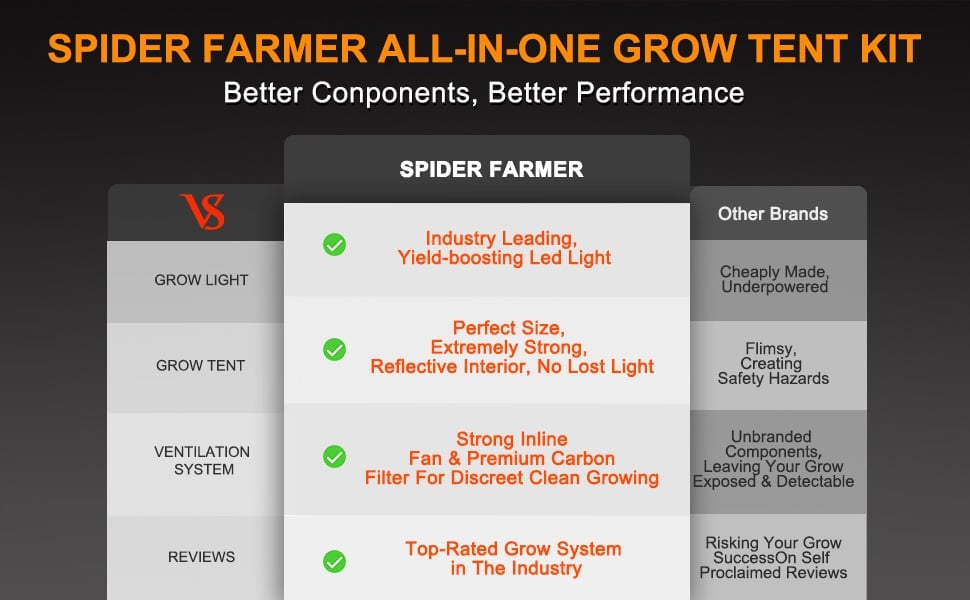 Grow Tent Kit Includes:
1 × SF2000 Full Spectrum LED Grow Light

1 × 24″ x 47″ x 71″ Grow Tent

1 × 4" Inline Duct Fan

1 × 4" Carbon filter

1 × Flex Air Aluminum Ducting

1 × Fan Speed Controller

1 × Thermometer and Hygrometer

1 × Timer

4 × 5 Gallon Grow Bags

1 × Trellis Plant Netting

2 × Adjustable Rope Clip Hanger
Spider Farmer SF2000 Full Spectrum Dimmable LED Grow Light
Specifications:
Energy efficiency (PAR/Watt): 2.7 umol/J

Maximum yield: 2,5 grams per watt

Quantity of LEDs: 606pcs

Spectrum: 660nm, 3000K, 5000K and IR 760nm

Veg footprint: 3 x 4 ft

Flowering footprint: 2×4 feet

Lifespan: >50.000 hours

Dimensions:25.5"×10.5"×2.3"

Net Weight: 6.76lbs

Replace other red and blue light: 2000W

Input Voltage: AC100-277V

Amp: 1.67A @AC120V, 0.84A @AC240V, 0.73A @AC277V

Draw power: 202.3W±5% @AC120V, 196.7W±5% @AC240V, 196.6W±5% @AC277V