Spider Farmer 40W UV & IR LED Grow Light Bar
$75.99
Experience the benefits of our latest UVR40, designed to induce flowering and sleep periods, increase leaf area, enhance plant nutritional quality, and stimulate biomass production.
3 distinct advantages:
Plug and play: Independent power supply for convenience
Improved flexibility: Independent control of UV and IR for customization
Adjustable length safety non-slip bracket: Designed to fit most bar lights for added safety and ease of use.


Fast Shipping
Same day delivery, 3-8 business days for the product to reach you.


After-Sale Service
Up to 5 years warranty. Best customer service.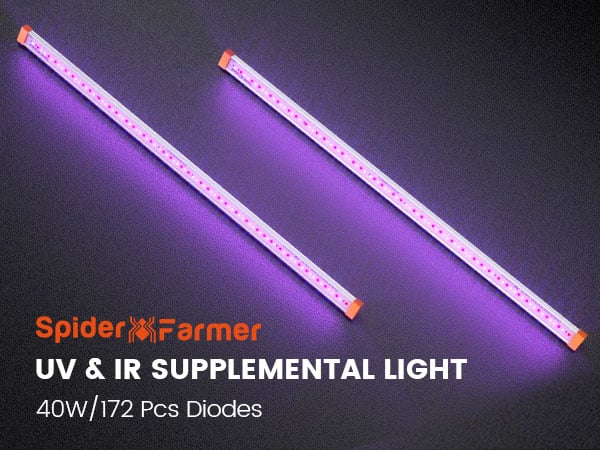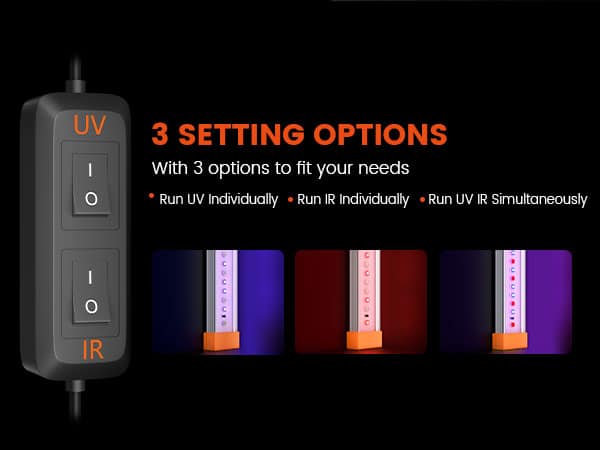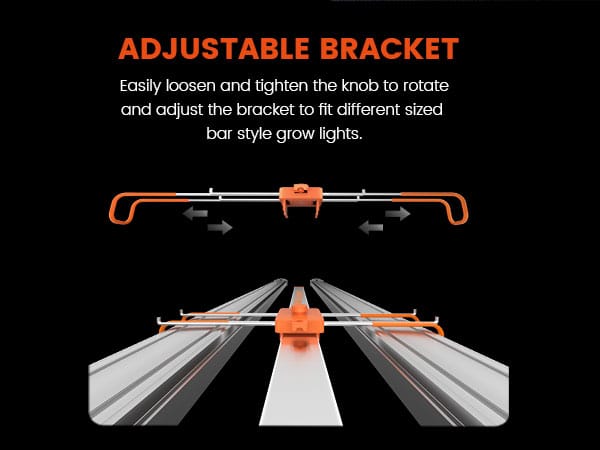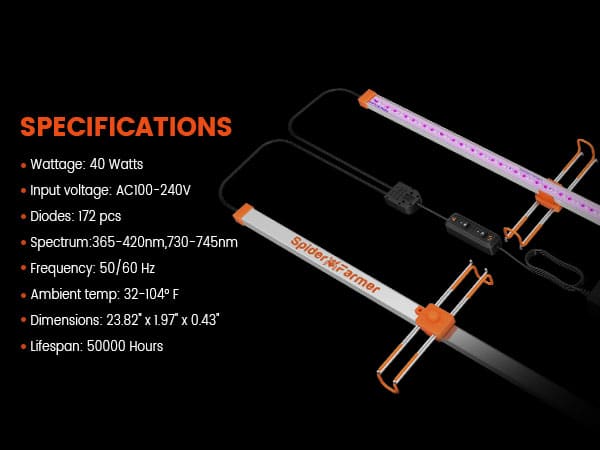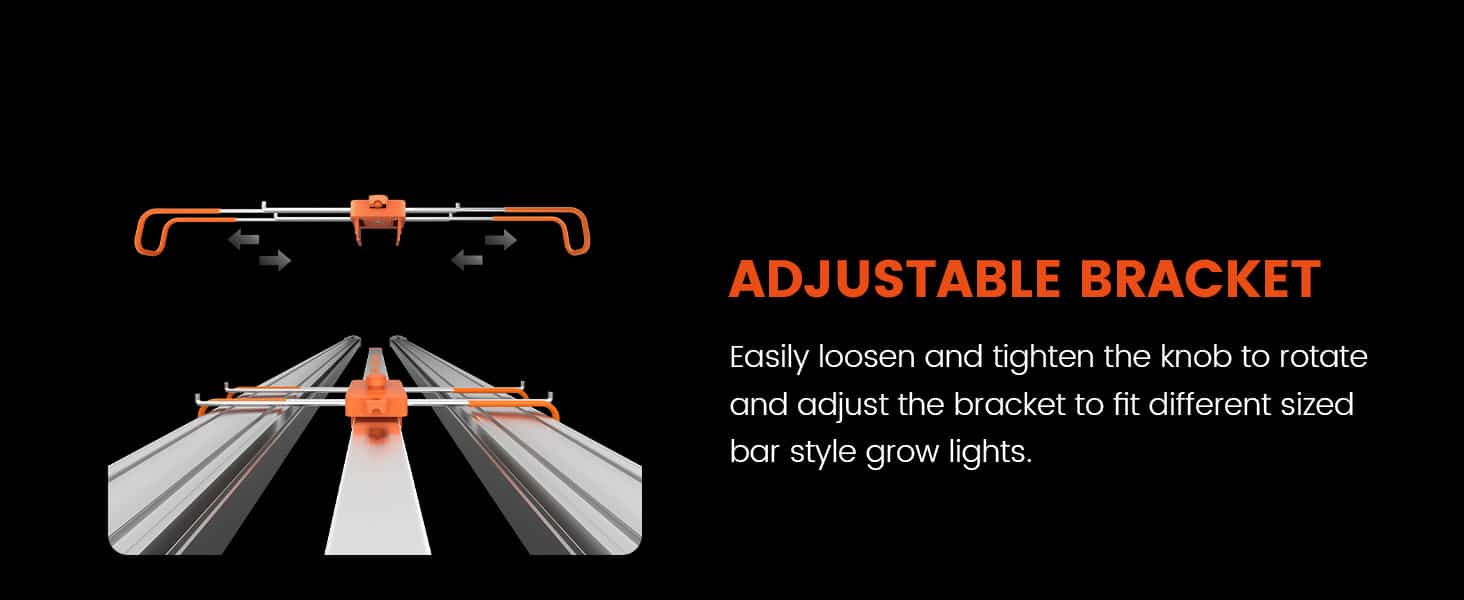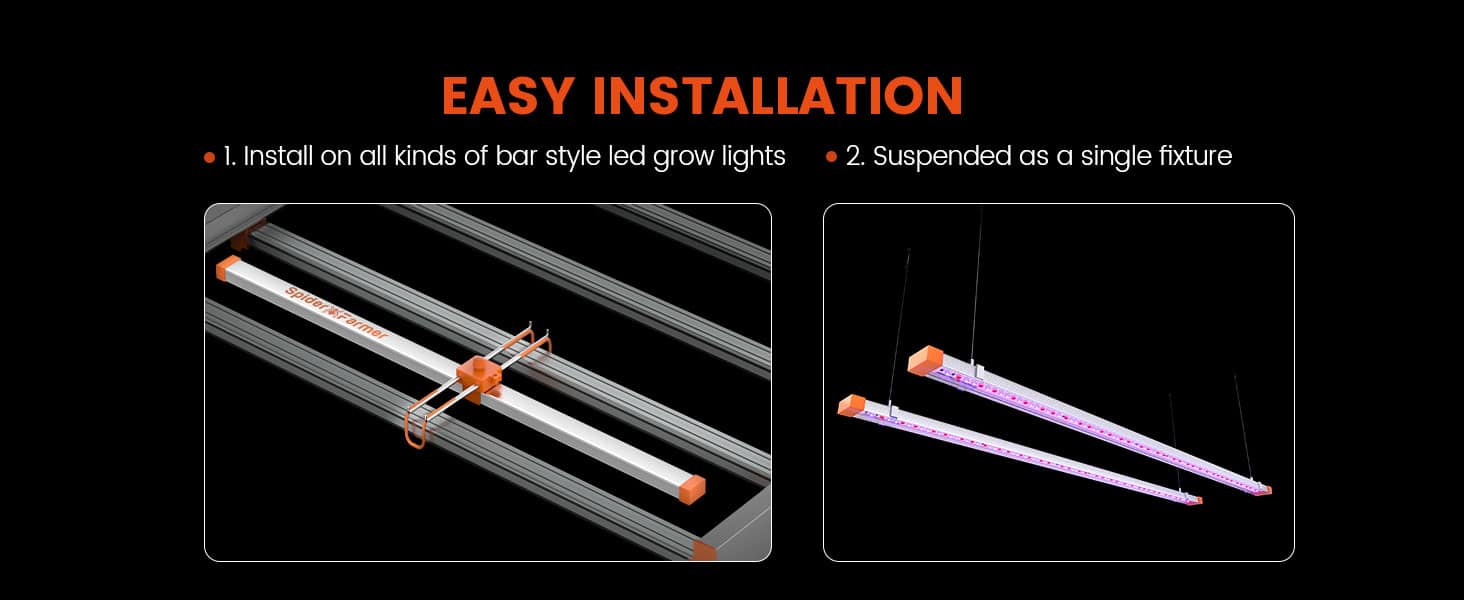 Q & A
Do the uv lights fit onto the spiderfarmer se3000 or the g3000??
Darren

asked on August 5, 2023
yes,this UV&IR light can fit onto the SE3000 and G3000
Spider Farmer LED

answered on August 14, 2023
store manager
What is the amp draw at 120-240v from your 40w UV/IR supplemental lighting unit? Thanks
Ryan

asked on May 21, 2023
Amp:
0.676A at AC120V
0.362A at AC240V
0.328A at AC265V
celia

answered on May 22, 2023
store manager
I have Spider Farmer SE 3000 and 3x3 grow tent. Would it be recommended for this setup? Additionally, regarding the package contents - does it include two units as shown in the picture, or is it just one?
Giorgi

asked on May 17, 2023
The Spider Farmer SE 3000 is an excellent choice for your 3×3 grow tent setup. Additionally, we recommend considering the G3000 and SF2000 PRO models as well for your 3'X3' grow tent.
Furthermore, the UVR package includes two units of the UV & IR supplemental light bar, as shown in the picture. This versatile light bar is compatible with almost all bar lights on the market and comes with a non-slip, flexible, and adjustable bracket, making installation effortless.
celia

answered on May 19, 2023
store manager
Can you use multiple sets on 1 light? For instance I have the 7000 bar light. Could I mount 2 sets on it equally spaced for max coverage vs just running 1 set? Would it be beneficial in doing so? Thanks
Eric

asked on April 12, 2023
Yes, you can use two sets of UV&IR bars. Doing so can provide benefits compared to using just one set, as it would increase the total amount of UV and IR light emitted, which can potentially enhance plant growth and development.
celia

answered on April 13, 2023
store manager
Does the sun turn uv/ir off at times during the day? Isn't the whole goal to match the sun's light matrix?
Big budz

asked on March 26, 2023
Sorry, no questions were found
1. Customer Satisfaction and Quality Products
Spider Farmer is a reputable brand in indoor and hydroponic gardening. Its products are widely used by farmers, hobbyists, and professionals. The company's mission is to help people grow healthy and vibrant plants in any environment. Spider Farmer continuously works to enhance and expand its product range to meet the evolving needs of its customers.

2. Best Prices Guarantee
Spider Farmer is committed to providing the best prices online for all our products. When you shop with us, rest assured that you are receiving the best online prices.

3.Enjoy Free and Discreet Shipping Across the USA
Our company is pleased to provide complimentary shipping to nearly every state in the USA, utilizing trusted couriers such as FedEx, UPS, USPS, and other reliable shipping providers. We understand the importance of privacy and will ensure that your package arrives discreetly.

4. Commitment to Customer Care
At Spider Farmer, we take responsibility for ensuring that our customers are always satisfied with their purchase. If anything is wrong, we guarantee to make it right, and you can reach us via call, email or message, and we will respond in about 1 business day or less.

5.Hassle-Free Returns and Refunds
In case your purchase does not meet your standards, we offer a hassle-free 30-day refund and return policy. Refer to our full return policy for details.

6.Dependable Global Shipping
We offer international shipping for all our products via FedEx, UPS, USPS, DHL, and other reputable couriers. To obtain a shipping quote, please proceed to the checkout process or get in touch with our customer service team for further assistance.

7. Buy Now, Pay Later with PayPal
Time and flexibility are on your side. Get what you want and break the payments up over weeks or even months.

8. Secure Payment Methods
We accept major credit and debit cards, PayPal, and bank transfers, and all card payments are processed through our encrypted SSL security processing system, ensuring that your identity is always protected.

Spider Farmer is dedicated to providing high-quality products and exceptional customer service to ensure a happy growing experience for all our customers.