Spider Farmer® SF2000Pro LED Grow Light With Dimmer Knob
$259.99
PPE: 2.7 µmol/J
Diodes: Samsung lm301B
Coverage: Flower Coverage: 2′X2′, Veg Coverage: 3′X3′
Grow Tent Compatible: 3'X3′
Recommended Fan Size: 4-Inch
Optional Controller: Spider Farmer Controller (Bring your indoor garden to the next level with new-age automation)
The SF2000 Pro is a premium LED grow light that is specifically engineered for square planting spaces. In contrast, the SF2000 is optimized for rectangular planting spaces.

Fast Shipping
3-8 business days for the product to reach you.
After-Sale Service
Up to 5 years warranty. Best customer service.
Frequently Bought Together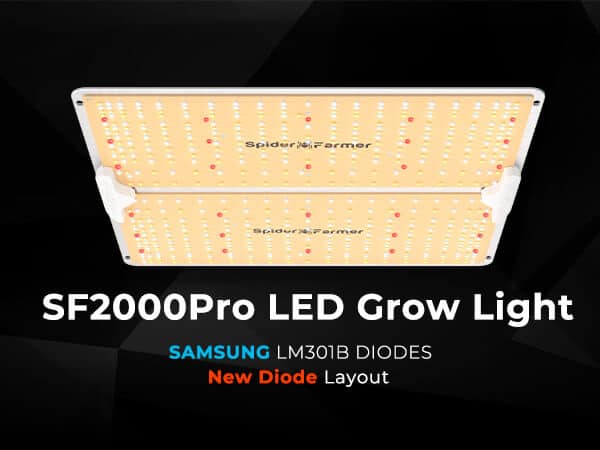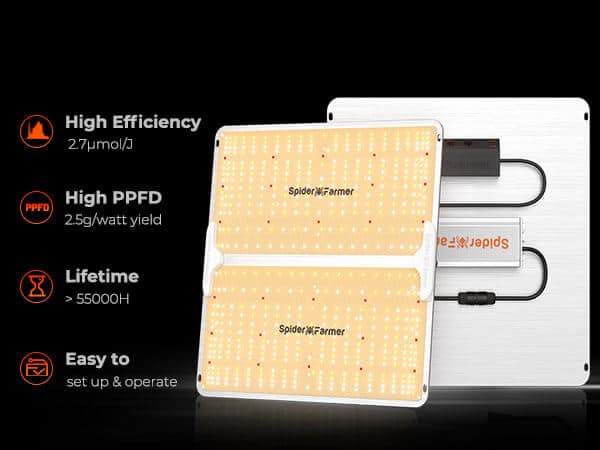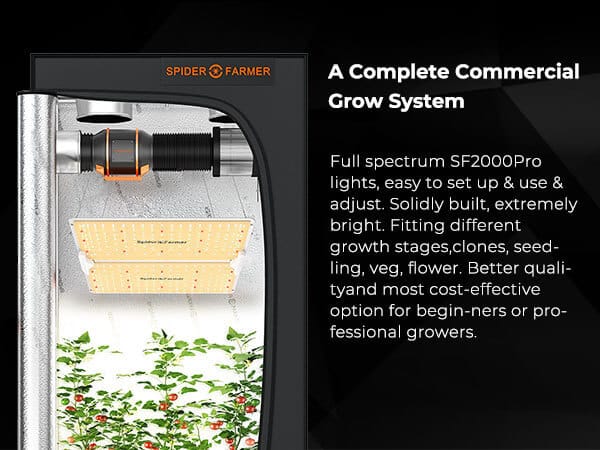 Q & A
Are these boards PWM/0-10V controlled or resister controlled? I'd like to control this with an AC Infinity controller and the two driver types require different adapters.
Mike

asked on May 27, 2023
PWM/0-10V controlled
celia

answered on May 29, 2023
store manager
What is the differences between this light and the G3000? Which would be better in 2x2 tent? I
Greg

asked on May 21, 2023
The G3000 is suitable for grow spaces with low ceilings or grow tents under 7 feet. It features 4 LED bars with wide spacing between them, allowing the G3000 lamp to evenly distribute light without creating hot spots when positioned close to the canopy.
The SF2000 Pro provides a compact and cost-effective option while offering superior light penetration similar to HPS lamps.
celia

answered on May 22, 2023
store manager
Will this be okay for a 4x4 grow tent with only 3 plants?
Shaun

asked on April 8, 2023
The SF2000 Pro can provide sufficient light for 3 plants, but it may not be able to reach all corners of a 4x4 tent. For a 4x4 grow tent, I recommend that you purchase either the SF4000, G5000, or SE5000, as these models will provide adequate coverage.
celia

answered on April 11, 2023
store manager
Will this light work with 2x2 tent?
Joe

asked on March 13, 2023
Yes
Spider Farmer LED

answered on March 13, 2023
store manager
I tried to add the Spider Farmer® SF2000Pro LED Grow Light to my cart and it says it isn't available in my country. Am I not able to buy this in the United States? Thank you
Margaret Mitchell

asked on March 3, 2023
Dear customers, you should be able to purchase it now. Could you please try again?
celia

answered on March 3, 2023
store manager
Sorry, no questions were found
1. Customer Satisfaction and Quality Products
Spider Farmer is a reputable brand in indoor and hydroponic gardening. Its products are widely used by farmers, hobbyists, and professionals. The company's mission is to help people grow healthy and vibrant plants in any environment. Spider Farmer continuously works to enhance and expand its product range to meet the evolving needs of its customers.

2. Best Prices Guarantee
Spider Farmer is committed to providing the best prices online for all our products. When you shop with us, rest assured that you are receiving the best online prices.

3.Enjoy Free and Discreet Shipping Across the USA
Our company is pleased to provide complimentary shipping to nearly every state in the USA, utilizing trusted couriers such as FedEx, UPS, USPS, and other reliable shipping providers. We understand the importance of privacy and will ensure that your package arrives discreetly.

4. Commitment to Customer Care
At Spider Farmer, we take responsibility for ensuring that our customers are always satisfied with their purchase. If anything is wrong, we guarantee to make it right, and you can reach us via call, email or message, and we will respond in about 1 business day or less.

5.Hassle-Free Returns and Refunds
In case your purchase does not meet your standards, we offer a hassle-free 30-day refund and return policy. Refer to our full return policy for details.

6.Dependable Global Shipping
We offer international shipping for all our products via FedEx, UPS, USPS, DHL, and other reputable couriers. To obtain a shipping quote, please proceed to the checkout process or get in touch with our customer service team for further assistance.

7. Buy Now, Pay Later with PayPal
Time and flexibility are on your side. Get what you want and break the payments up over weeks or even months.

8. Secure Payment Methods
We accept major credit and debit cards, PayPal, and bank transfers, and all card payments are processed through our encrypted SSL security processing system, ensuring that your identity is always protected.

Spider Farmer is dedicated to providing high-quality products and exceptional customer service to ensure a happy growing experience for all our customers.