Best Humidifier for Grow Tent Choices in 2023
Indoor gardening seems easy but it's not necessarily true when you are hands-on doing so. For example, the humidity level can be a tricky stress to control if you want to enjoy optimal plant growth. The lack of moisture in the grow tent can result in brittle leaves, stunted growth, and reduced yield even. To increase humidity in the grow tent and maintain a stable moisture level, using a humidifier is definitely the most efficient method. Read on to check the top 5 humidifier for grow tent we pick for you. 
Humidifier for Grow Tent [Best 5 Options in 2023] 
No matter whether you are living in an extremely dry region or simply want to increase humidity in the tent a little, the following humidifiers can be a good helper. 
Levoit Classic 100 Cool-Mist Humidifier: Best Budget-wise Option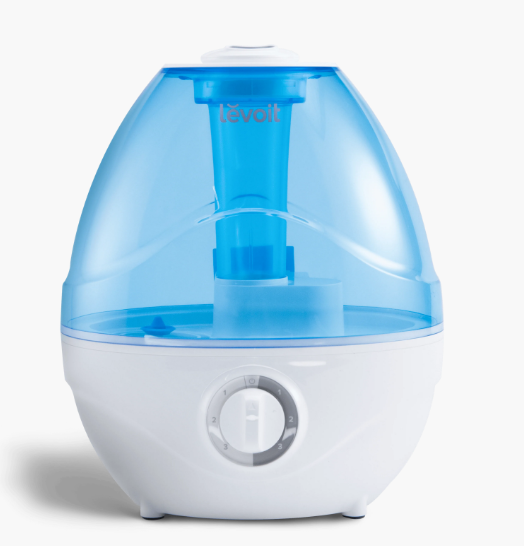 Basic Specs:
Water tank capacity: 2.4 Liters

Dimension: 8.5 x 6.7 x 10.2 in

Maximum grow room coverage: 290 Square Feet 

Runtime: up to 24 hours of runtime
Known as a popular household appliance brand, Levoit has a series of humidifiers for different case scenarios. As the best seller, Levoit Classic 100 Cool-Mist Humidifier definitely stands out for good reasons. With a truly affordable price that's less than 30 bucks if there's a deal, this humidifier for grow tent comes with remarkable performance as well. 
Pros: 
Adjustable mist output and built-in humidistat ensure customized humidity levels for your plants. With a simple control dial, you can select your preferred mist level from 1 to 3. 

By deploying an advanced ultrasonic micro-mist technology, this grow tent humidifier adds humidity to the surface of your plants evenly, with super-fine and virtually invisible cool mist. 

With the 360-degree rotating nozzle, you have full control over where the mist goes. 

Automatic shut-off function and low water level indicator help ensure safety and prevent damage to the unit. 
Cons:
Compared with a square water tank, the egg-like shape can be inconvenient to clean since it has a narrower neck. 

The design or appearance of the humidifier is not as chic as other modern ones. And the blue color does not typically match most dark-themed grow tents in the market. 

Although the coverage is definitely enough for your grow room, the humidifier may not be effective in large rooms or open areas if requested. 
Honeywell HCM350W Cool Mist Humidifier: Best Germ-free Grow Tent Humidifier
Basic Specs:
Water tank capacity: 1.1 gallon 

Dimension: 17.9 x 9.37 x 11.4 inches

Maximum grow room coverage: 800 Square Feet 

Runtime: up to 24 hours of runtime
If you value the mist quality the humidifier emits, Honeywell germ-free humidifier is worth considering. Equipped with UV technology, this best grow tent humidifier is able to kill 99.9% of bacteria in the water, therefore producing germ-free mist to raise humidity in your tent. 
Pros:
Easy to use and maintain, with dishwasher-safe parts and a self-regulating evaporative system that automatically adjusts output based on humidity levels. 

The antibacterial-treated filter that involves UV technology can provide you with germ-free mist, which can be a bonus for your plant growth. 

East to refill. With the tank handle, you can easily take the tank to the sink and refill it straight from the faucet. 
Cons:
The wicking filters need to be replaced every 3-6 weeks, depending on the frequency you use the humidifier. Considering a filter costs $10 to $30, that can be such an expense for maintenance. 

Depending on your water quality, mineral buildups may accumulate on the filter and other parts, requiring more frequent cleaning.  

UV light is considered useless and even deteriorative to the unit by some users. 
Venta Comfort Plus LW25 Humidifier: Best 2-in-1 Humidifier & Air Purifier
Basic Specs:
Water tank capacity:  1.8 gallons

Dimension: 12 x 12 x 13 inches

Maximum grow room coverage: 485 Square Feet 

Runtime: 10 hours 
Made by Venta, a German company that has been manufacturing air treatment systems for over 30 years, the Venta LW25 humidifier is a high-quality and energy-efficient humidifier as well as an air purifier. These two functions work simultaneously to increase the moisture level of your grow room and also remove pollen, dust, and other allergens to purify the air. 
Pros:
Unlike other grow tent humidifiers, this one uses a unique and patented technology named

cold evaporation

. It works by drawing dry indoor air through rotating disks that are partially submerged in water. Then the dry air absorbs moisture from the disks, and the humidified air is released back into the room.

Thanks to the large tank capacity, Venta humidifier is able to support a wide coverage that's up to nearly 500 square feet, which you can not only use for a grow tent but also a greenhouse. 

This best humidifier for grow tent is very easy to maintain. It does not require any filters, and the rotating disks can be easily cleaned with soap and water.
Cons:
It takes a great fortune to buy this humidifier. If you are just a personal grower, it's worth thinking about whether to invest the money or not. Also, it's clearly not the most cost-effective option when purchasing a grow tent humidifier. 

While it seems to obtain two appliances in one, some users argue that the air purifier is just not working at all, which makes people doubt the justification of the high price. 

Reaching the ideal humidity level is quite slow, so you'd better not expect excellent results in 1 or 2 days. 
Basic Specs:
Water tank capacity: 4 liters

Dimension:  9 x 5 x 12.1 inches

Maximum grow room coverage: 538 Square Feet 

Runtime: 36 hours 
As one of the Spider Farmer grow tent accessory lineups, the cool mist humidifier is just a go-to option anytime you want to increase the humidity level in the tent. Designed specifically for plants in grow tents, Spider Farmer ultrasonic humidifier comes with various humidity control features to boost optimal growth. Let's check them out.
Pros:
No need to buy an extra humidistat, you can clearly read the current & accurate ambient humidity level thanks to the built-in detector. 

Customizable humidity settings. You can free your hands by setting the humidifier to pause evaporating moisture once reaching a desired humidity level between 40% - 90%. When the level lowers down, the humidifier will resume working again. 

You can adjust the level of the fog volume with three options, low, medium, and high. With the high fog output, your plants can benefit from an infusion rate of 300mL/h. 

The top fill design with a wide opening makes it easy for you to add water every time. What's more, the big 4-liter tank makes it less demanding for frequent refilling. 
Cons:
Compared with other humidifiers, this best grow tent humidifier may show a less accurate humidity level. 

The transparent water tank is more likely to create a living environment for algae, therefore, the newer model of Spider Farmer humidifier has modified the cover to a dark color. Hopefully, it'll work. 
Aprilaire 500 Whole-Home Humidifier: Best for Large Spaces 
Basic Specs:
Water tank capacity: 12 gallons

Dimension:  15.63 x 13 x 10.25 in

Maximum grow room coverage: 3500 Square Feet 

Runtime: hours to a day 
As the name suggests, the Aprilaire 500 Whole-Home Humidifier is initially designed for use in residential homes. However, it can be a great fit if you have a spacious grow room or greenhouse for planting. Why? Check the following advantages of this humidifier. 
Pros:
The Aprilaire 500 uses a unique water panel evaporator to distribute moisture evenly throughout the space. By having a large capacity of up to 12 gallons per day,  this best humidifier for grow tent can cover up to 3,500 square feet of space.

The automatic digital control system grants users the chance to set and maintain a desired humidity levels easily. The system also has a built-in humidity sensor that constantly monitors the humidity levels in your home and adjusts the humidifier's output accordingly.

A bypass damper guarantees that the humidifier only operates when it is needed, which helps to conserve water and energy and prevent over-humidification.
Cons:
Requires professional installation, which can be a tough job if you are not familiar with setting up equipment. 

Some users have reported issues with leaks or water damage if not properly maintained. That might cause potential safety concerns. 

It can be noisy when in use, although this may not be a significant issue for some users. However, the noise can be a big headache if you have babies around. 
How Do You Choose the Best Humidifier for Grow Tent
With a long list of humidifier for grow tent, how do you spot the best one? Truth be told, it's really hard to name a one-for-all option for every grower. Therefore, we've gathered some essential factors to consider when choosing the best humidifier for grow tent. Hopefully, you can combine them together with your own situation and make a wise choice. 
Size of Your Grow Tent
it's not always the bigger, the better, and vice versa. Make sure to choose a humidifier that is appropriate for the size of your grow tent. For example, if you are using a 4x4 grow tent, the Spider Farmer is good enough to cover. 
Water Tank Capacity & Ease to Use
Generally speaking, the water tank capacity determines how often you need to refill it. A larger water tank will require less frequent refills, but it also takes up more space at the same time. Meanwhile, you may never think of it but the shape of the tank actually matters. As we've mentioned above, you'd prefer a tank with a wide opening instead of a narrow one, just for easier refill and cleanup. 
Humidistat Control Options
A humidistat measures and regulates humidity levels. Look for a humidifier with built-in humidistat control, as this will allow you to set and maintain the optimal humidity level for your plants without buying an extra detector. 
Noise Level
Some humidifiers sound disturbing when working and that can be a problem if you're placing the grow tent in a shared living space. Look for a humidifier that has a low noise level, especially when you have kids at home. 
Cleaning and Maintenance
In addition to the water tank shape, you may prefer a humidifier with portable parts that are easy to remove. It would be even better if they are dishwasher-safe. In this case, it won't be a hassle every time you clean the brow tent humidifier. 
Price
We understand you want to benefit from the best quality, but it's also important to choose a cost-effective one instead of just spending dozens or even hundreds in vain. Further maintenance charges should also be taken into consideration since you'll have to replace the filter now and then. 
Bonus: How to Raise Humidity in Grow Tent without Humidifier
Undoubtedly, using a humidifier is the most effective way to raise the humidity level in the grow room, but if you are thinking about methods without a humidifier, the following article can certainly help you out: How to Raise Humidity in Grow Tent?
Verdict on Humidifiers for Grow Tents
In conclusion, humidifiers can be a valuable addition to your grow tent, as they help to reach and maintain the ideal humidity levels for your plants. However, it's important to consider the size of your grow tent, water tank capacity, and other factors that are included in the buying guide above before purchasing a humidifier. With proper use of the humidifier and regular monitoring, a humidifier can be a useful tool to help your plants thrive in a healthy environment.
FAQs about Humidifier for Grow Tent
Should I put a humidifier in my grow tent?
The ideal humidity level for healthy growth is around 40% to 60%. If the humidity level in your grow tent goes below that, it's advised to put a humidifier to alter the humidity and temperature in your grow tent as your plants mature so they never get dried out. 
What kind of humidifier do I need for my grow tent?
Quite a few factors are worth thinking about if you want to select the right humidifier for your grow room. Depending on the grow tent size, water tank capacity, budget, humidity control options, etc., you can further narrow down which type of humidifier fits your grow tent. 
What is the best way to humidify a grow tent?
The best way to humidify a grow tent is to use a humidifier for sure. Unlike other manual work to raise the humidity, using an electronic humidifier offers an effortless approach to reaching an accurate and customizable humidity level. 
Do I need a humidifier or dehumidifier for my grow tent?
It depends on the current humidity level of your tent. Ideally, indoor plants flowering humidity is between 40% - 60%. If you live in regions where the air is extremely dry, a humidifier is there to help you increase the humidity. However, if the environment is humid enough, a dehumidifier is what you need. 
Where to place humidifier in grow tent?
It's suggested to place the humidifier at a higher level that helps the mist to disperse more evenly throughout the tent. However, make sure it's not too close to your plants as the mist may fall directly on the surface and cause damage.